Florida Farm Bureau, Info Tech & 97.3 FM The Sky help The Arc of Alachua County produce the greatest 2018 Bob Rose Golf Scramble of all time!
The April 13th event at Haile Plantation Golf & Country Club brought $50,000 for recreational and community-based programs for Arc clients with intellectual and developmental disabilities.
Florida Farm Bureau's Team # 1 of Stephen Tanner, Chris Bell, Pat Jenkins and Sean McNeill took first place honors with a score of 52, or -19 under par (see photo below).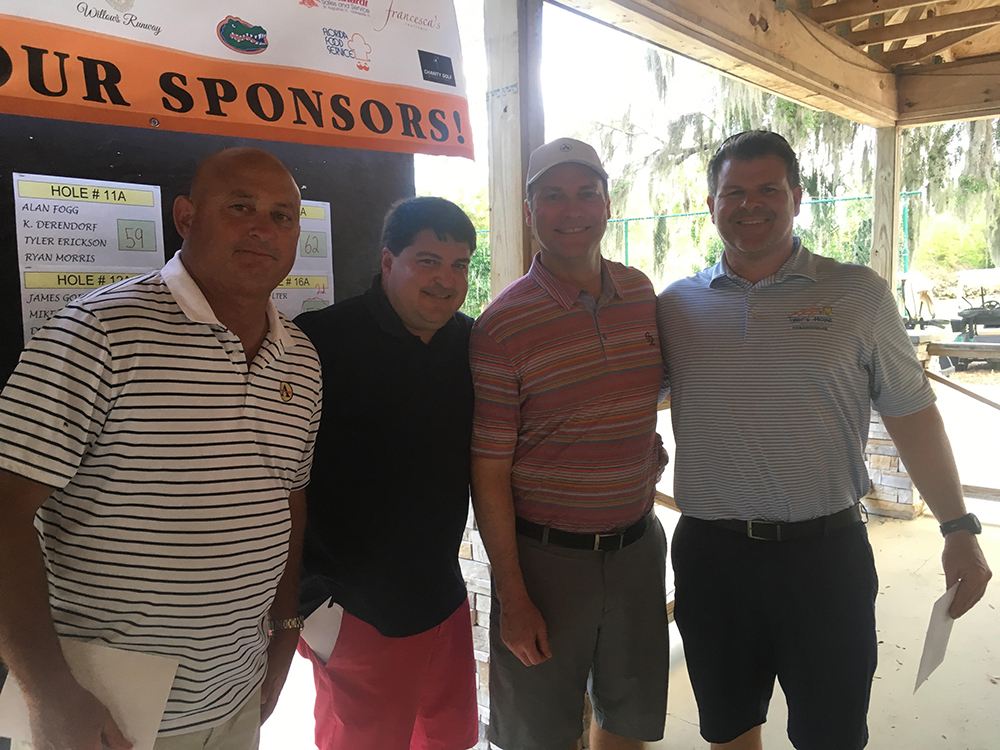 More than 100 golfers and 35 volunteers combined forces to put on a nearly-perfect Bob Rose Golf Scramble under sunny Florida skies. Golfers enjoyed lunch from David's BBQ, a seafood boil dinner from Wahoo Seafood, music from Mr. October DJ, and a Live Auction of cool prizes after the scramble concluded. Cash prizes were awarded to the 1st, 2nd, and 3rd place foursomes. We also handed out sweet prizes to the winners of the longest drive, longest putt, and closest to the pin winners. Unfortunately, no one hit a hole-in-one at the gorgeous, but devilishly tricky, No. 8 Hole at Haile, so no one took home a new Harley-Davidson motorcycle from our good friends at Gainesville Harley-Davidson.
We want to thank our generous, loyal and passionate sponsors and vendors who made the 2018 Bob Rose Golf Scramble the most successful fundraiser in Arc of Alachua County history:
Florida Farm Bureau Insurance
InfoTech
97.3 FM The Sky
Willis Towers Watson
Integro Benefits
James Moore
Renasant Bank
Florida Food Service
Pepine Realty
Gainesville Harley-Davidson
Zinnia Wealth Management
Michelle & Paul Grune Mobile Pet Grooming
University of Florida
Mr. October DJ
Willow's Runway
David's BBQ
Wahoo Seafood
Bradford Portrait Studio
ExacTech
ABA Associates
NPIS
Magnolia Iron Works
Charity Golf International
Jordan Spieth Foundation
Haile Plantation Golf & Country Club
Pepsi Co
RadWear Design, Inc.
Renaissance Printing
Five Star Golf
Burkhardt Sales & Service
Learn More »
---
Introducing The Arc of Alachua County's New Director of Programs:

Mr. Johnny Adams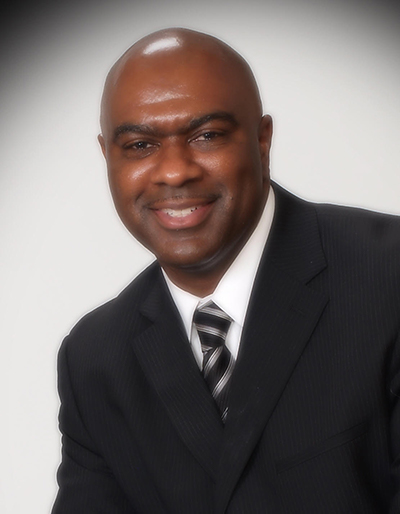 The Arc of Alachua County is proud to announce that Mr. Johnny Adams has been promoted to the position of Director of Programs with The Arc of Alachua County. Mr. Adams, who prefers to be called "Johnny," has served people with intellectual and developmental disabilities (I/DD) for 24 years at The Arc. He has a wealth of institutional knowledge and a depth of experience unparalleled in this field. Johnny began his service to The Arc as a Direct Support Provider (DSP) serving people with Prader-Willi Syndrome (PWS). Johnny was here at The Arc when our world-renowned PWS Program was initiated and his experience with the PWS Program and the people it serves makes him invaluable to us. Johnny's excellent performance led to his promotion to Behavior Technician, followed shortly thereafter by Residential Manager. Johnny's strong, dependable, and calm leadership led to his ascension to Assistant Director of Residential Services in 2001. Johnny demonstrated keen leadership skills as the organization grew. While adding to his impressive resume, Johnny was attending Santa Fe College and earning a degree in Business Administration. The rare amalgamation of client empathy, management expertise and visionary leadership makes Johnny Adams a leader well-respected among all stakeholders -- clients, employees, staff, donors, board members, volunteers, vendors, fellow professionals and families. One could say that "Johnny Adams is The Arc of Alachua County!".
Johnny's promotion to Director of Programs at The Arc of Alachua County headlines a number of exciting personnel moves featuring talented staff members. The Arc is excited to announce that Rose Hines has been promoted to Director of Residential Services. In addition, Vardream Renee Williams has been named Assistant Director of Residential Services. Rose and Vardream will assist Johnny in managing and coordinating the 16 (soon to be 17) group homes in the Arc of Alachua County Family, ensuring that our consumers, staff members and services meet and exceed the highest quality standards. The Arc also recently announced that Jenny Gray has been promoted to Director of Day Programs. In addition, Shanna Wilson is now the Office Manager for The Arc. These aforementioned personnel changes will serve to further the mission of The Arc of Alachua County, while working to raise the already exemplary standards of care and customer service exemplified by our employees.
Please welcome these individuals to their new positions and, more importantly, work hand-in-hand with them to ensure that this century is the century for adults with intellectual and developmental disabilities.
---
Arc Gala IV: Bowden & Bowties Garners Great Publicity
As we bask in the afterglow of another successful event, 'Arc Gala IV: Bowden & Bowties,' The Arc of Alachua County's unprecedented run of great publicity continues. WCJB TV20 ran a fabulous story on the Gala on Saturday night's 11 p.m. broadcast. Coach Bowden and Mark A.Swain are interviewed on camera. You can scope out the story on WCJB.com by clicking on this link: http://www.wcjb.com/content/news/Bowden-and-bowties-468237253.html.
TV20 reporter Landon Harris' package was the second or third story on the 11 p.m. broadcast of Saturday, January 6, 2018, and really served our organization well in terms of highlighting our event, our mission, our leadership and our clients.
Thanks again to everyone who made the event possible. Events like the Gala require extraordinary teamwork and committed partnerships. The Arc is lucky to benefit from both. A very special thanks to Coach Bowden, who was simply a joy and pleasure to work with and to be around. He is a real treasure; a kind and gracious soul. And, of course, thanks to Dos Mamas Catering, Robert Fetterman, Alora Haynes and the great staff at SFC's Fine Arts Hall and Fine Arts Department, my good friend Terry Vaughan, who assisted me in getting the word out about the event and securing my contacts with 'Nole Nation, and to our fabulous orchestra of Aaron Colverson, Tony Canty, Dr. Thomas Royal, Dave Hutchings and Rob Rothschild. Thanks to Kumari Sherreitt for taking event photos (I will need a couple of weeks to process them and get them out to guests). And thanks to my lovely wife Jackie who assisted with the preparations for the event, and put up with my pre-event insanity.
And I want to personally thank our event sponsors, Florida Food Service, Tom & Joan Rothrock, The Chini Family & CDCI, ABA Associates, and Willis Towers Watson. As always, I am humbled by your support and generosity.
Way to go, Arc of Alachua County!
---
Local Action Makes A World of Difference
This century will bear witness to the biggest historical changes for people with intellectual and other developmental disabilities (I/DD). We are now just beginning to see the real capabilities of people with I/DD as they impact the arts, public service, the workplace, politics and culture. We see folks with intellectual and developmental disabilities playing larger, more influential roles in our families and communities. People with I/DD are on the move, developing more meaningful roles by demonstrating a strong ability to make positive and enriching contributions to our society. We're witnessing history!
Help make a 'world' of difference by supporting 'local' people with intellectual and developmental disabilities. Achieve with us. Support the Arc of Alachua County.
The Arc of Alachua County – serving folks locally for over 50 years.
---
The Arc of Alachua County's LiveScan Fingerprinting, Screening & Photo Capture Service is Open For Business!
The Arc of Alachua County offers LiveScan digital fingerprinting services, screening, and photo capture services each workweek, Monday – Thursday, 9 a.m. – 3 p.m. If you need fingerprinting done fast, local, and at a reasonable cost, please call The Arc at 352-334-4060 ext. 100 to schedule an appointment.
All requirements met for
Agency for Healthcare Information (AHCA)
The Department of Children & Families (DCF)
The Clearing House for AHCA
Volunteer & Employee Background Service (VECHS)
Florida Department of Law Enforcement (FDLE)
Local School System
and more...
For more information about The Arc's LiveScan service, click on the LEARN MORE button below.
Learn More »