Arc Gala IV: Bowden & Bowties Garners Great Publicity
As we bask in the afterglow of another successful event, 'Arc Gala IV: Bowden & Bowties,' The Arc of Alachua County's unprecedented run of great publicity continues. WCJB TV20 ran a fabulous story on the Gala on Saturday night's 11 p.m. broadcast. Coach Bowden and Mark A.Swain are interviewed on camera. You can scope out the story on WCJB.com by clicking on this link: http://www.wcjb.com/content/news/Bowden-and-bowties-468237253.html.
TV20 reporter Landon Harris' package was the second or third story on the 11 p.m. broadcast of Saturday, January 6, 2018, and really served our organization well in terms of highlighting our event, our mission, our leadership and our clients.
Thanks again to everyone who made the event possible. Events like the Gala require extraordinary teamwork and committed partnerships. The Arc is lucky to benefit from both. A very special thanks to Coach Bowden, who was simply a joy and pleasure to work with and to be around. He is a real treasure; a kind and gracious soul. And, of course, thanks to Dos Mamas Catering, Robert Fetterman, Alora Haynes and the great staff at SFC's Fine Arts Hall and Fine Arts Department, my good friend Terry Vaughan, who assisted me in getting the word out about the event and securing my contacts with 'Nole Nation, and to our fabulous orchestra of Aaron Colverson, Tony Canty, Dr. Thomas Royal, Dave Hutchings and Rob Rothschild. Thanks to Kumari Sherreitt for taking event photos (I will need a couple of weeks to process them and get them out to guests). And thanks to my lovely wife Jackie who assisted with the preparations for the event, and put up with my pre-event insanity.
And I want to personally thank our event sponsors, Florida Food Service, Tom & Joan Rothrock, The Chini Family & CDCI, ABA Associates, and Willis Towers Watson. As always, I am humbled by your support and generosity.
Way to go, Arc of Alachua County!
---
Local Action Makes A World of Difference
This century will bear witness to the biggest historical changes for people with intellectual and other developmental disabilities (I/DD). We are now just beginning to see the real capabilities of people with I/DD as they impact the arts, public service, the workplace, politics and culture. We see folks with intellectual and developmental disabilities playing larger, more influential roles in our families and communities. People with I/DD are on the move, developing more meaningful roles by demonstrating a strong ability to make positive and enriching contributions to our society. We're witnessing history!
Help make a 'world' of difference by supporting 'local' people with intellectual and developmental disabilities. Achieve with us. Support the Arc of Alachua County.
The Arc of Alachua County – serving folks locally for over 50 years.
---
The Arc of Alachua County's LiveScan Fingerprinting, Screening & Photo Capture Service is Open For Business!
The Arc of Alachua County offers LiveScan digital fingerprinting services, screening and photo capture services, each workweek, Monday – Thursday, 9 a.m. – 3 p.m. If you need fingerprinting done fast, local, and at a reasonable cost, please call The Arc at 352-334-4060 ext. 106, or simply 'walk-in' during regular business hours and we will accommodate your requests for fingerprinting, photo capture and screenings.
All requirements met for
Agency for Healthcare Information (AHCA)
The Department of Children & Families (DCF)
The Clearing House for AHCA
Volunteer & Employee Background Service (VECHS)
Florida Department of Law Enforcement (FDLE)
Local School System
and more...
For more information about The Arc's LiveScan service, click on the LEARN MORE button below.
Learn More »
---
The Arc of Alachua County in Words & Music:
'Celebrating Ability – Creating Opportunity'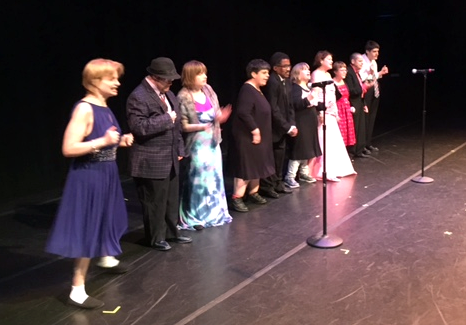 You may not know it yet, but The Arc of Alachua County has its own audio brand, or jingle. The Arc jingle debuted at Arc Gala III and was sung by none other than our own Arc Drama Troupe under the direction of Arc staffers Travis Couillette and Karen Madden.
Emphasizing The Arc's creed of 'Celebrating Ability & Creating Opportunity,' our more theatrically-inclined clients brought audience members to their feet at the Gala with the jingle that truly epitomizes our desire to see all people with intellectual and developmental disabilities become fully integrated into our community.
We hope that our jingle 'rings true' with the folks in the community and becomes associated with our mission, our clients, and our brand. Together, all of us are helping to 'Celebrate Ability & Create Opportunity' for those with intellectual and developmental disabilities.