The Arc Annual Meeting & Recognition Event A Huge Success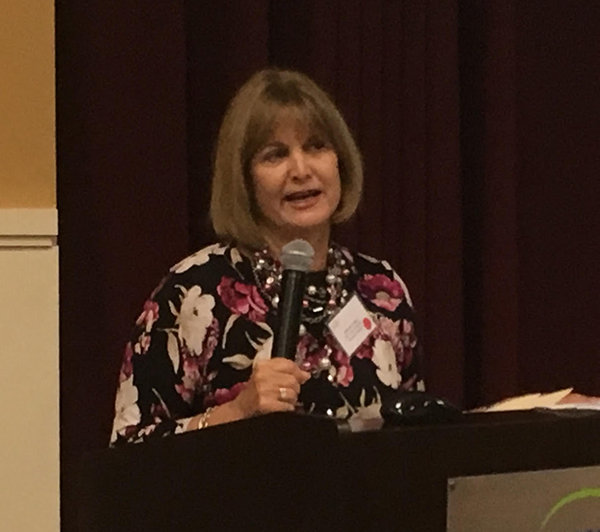 Deborah Linton, CEO of The Arc of Florida, provided an impassioned speech at the 2018 Arc Annual Meeting & Recognition Event. She urged all guests to advocate forcefully on behalf of people with Intellectual and Developmental Disabilities (I/DD). A Standing Room Only audience attended this annual celebration of The Arc which also announced a number of very special winners of individual awards including:
Direct Service Provider of the Year - Ron Bryant
Employee of the Year - Betty Davis
Client of the Year - Michelle Kennedy
Volunteer of the Year - Anne Miller
The event could not have happened without the generous support of our event, individual award, and table sponsors:
Shahpar & Abdol Chini
Ben & Bonnie Doerr
New York Life Insurance Company
ABA Associates
Todd & Jessica Baker
Tom & Joan Rothrock
Eric Parker
James Moore & Co.
Digestive Disease Associates
Pat Beach
Naomi Williams
Florida Food Service
Learn More »
---
Annual Gear Up Florida/Ability Experience Friendship Visit Rocks The Arc
The Arc of Alachua County once again hosted over 30 bicyclists at the annual Gear Up Florida/Ability Experience Friendship Visit on Wednesday, May 23rd at its main campus. College-aged students representing Pi Kappa Phi Fraternity from colleges and universities across the U.S., annually traverse the State of Florida from Miami to Tallahassee raising awareness of, and money for, developmental disabilities. One of the biggest stops on their annual tour is the one in Gainesville.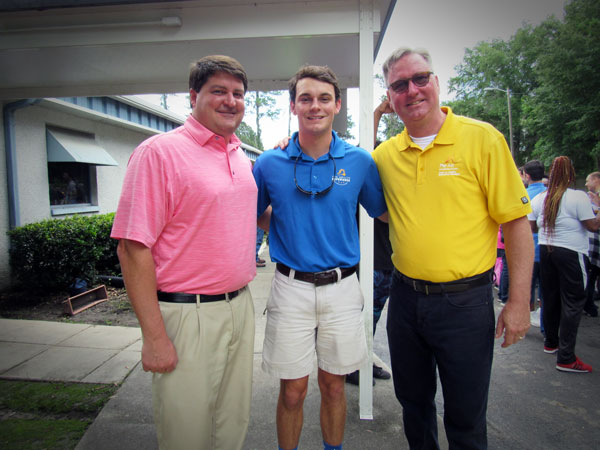 Sponsored each and every year by long-time and generous 'Friends of Arc,' John & Sheila Spence, the annual Gear Up Florida Friendship Visit began with a 'bang' as the bicyclists were escorted onto The Arc's campus by GPD motorcycle police escort. Rain and storms had plagued Gainesville (and the bicyclists) for 10 straight days prior to the Gainesville stop, but Wednesday, May 23rd dawned rain-free allowing GPD police and the bikers to ride onto campus to huge cheers. Among the fun activities at the annual event: bikers signed autographs for Arc clients, Gear Up Florida bicyclists joined Arc clients and staff members for a wonderful lunch of pork, chicken, corn-on-the-cob provided by Dos Mamas Catering, a dance on the patio to music from Mr. October DJ, and the traditional group photo at the end of the event in front of the big Arc sign on NW 83rd St (see group photo above). Local media representatives from WGFL Channel 4 News & WCJB TV 20 News were on hand to report on the fantastic event, and ran stories on it that evening.
The Arc thanks Chelsea Ball, Logistics Coordinator, and Hunter Stewart, Project Manager (seen in photo above with Arc Board President Stephen Tanner and Arc Executive Director Mark A. Swain) from Gear Up Florida/Ability Experience for flawless planning and coordination of the visit.
And a very special note of gratitude to our very generous and loving event sponsors, John & Sheila Spence.
---
Florida Farm Bureau, Info Tech & 97.3 FM The Sky help The Arc of Alachua County produce the greatest 2018 Bob Rose Golf Scramble of all time!
The April 13th event at Haile Plantation Golf & Country Club brought $50,000 for recreational and community-based programs for Arc clients with intellectual and developmental disabilities.
Florida Farm Bureau's Team # 1 of Stephen Tanner, Chris Bell, Pat Jenkins and Sean McNeill took first place honors with a score of 52, or -19 under par (see photo below).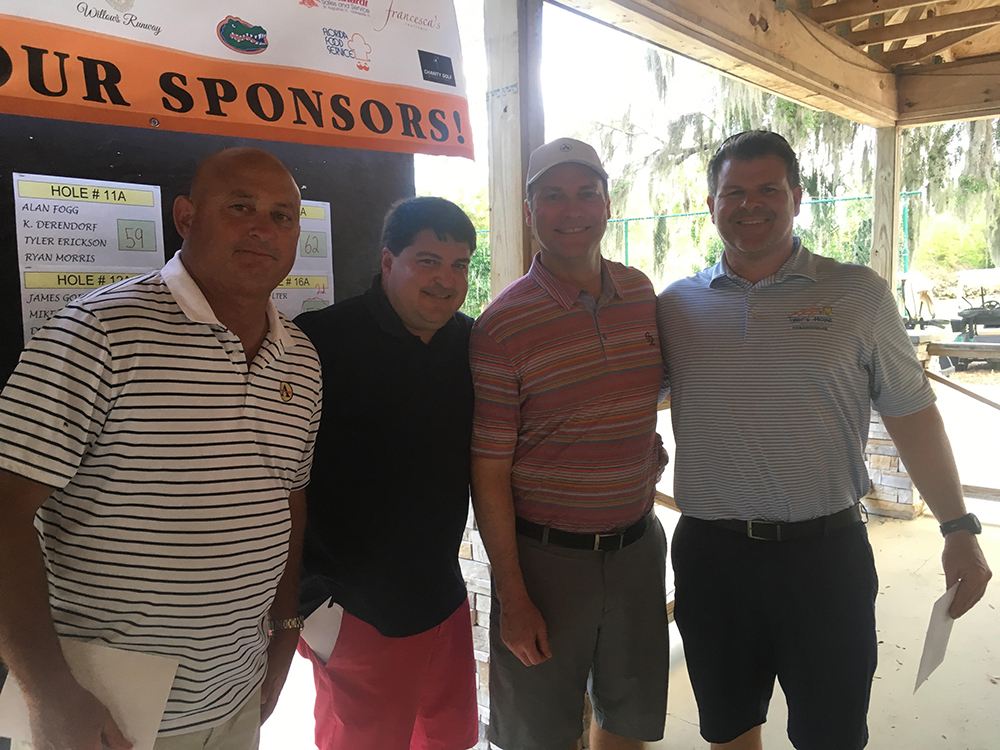 More than 100 golfers and 35 volunteers combined forces to put on a nearly-perfect Bob Rose Golf Scramble under sunny Florida skies. Golfers enjoyed lunch from David's BBQ, a seafood boil dinner from Wahoo Seafood, music from Mr. October DJ, and a Live Auction of cool prizes after the scramble concluded. Cash prizes were awarded to the 1st, 2nd, and 3rd place foursomes. We also handed out sweet prizes to the winners of the longest drive, longest putt, and closest to the pin winners. Unfortunately, no one hit a hole-in-one at the gorgeous, but devilishly tricky, No. 8 Hole at Haile, so no one took home a new Harley-Davidson motorcycle from our good friends at Gainesville Harley-Davidson.
We want to thank our generous, loyal and passionate sponsors and vendors who made the 2018 Bob Rose Golf Scramble the most successful fundraiser in Arc of Alachua County history:
Florida Farm Bureau Insurance
InfoTech
97.3 FM The Sky
Willis Towers Watson
Integro Benefits
James Moore
Renasant Bank
Florida Food Service
Pepine Realty
Gainesville Harley-Davidson
Zinnia Wealth Management
Michelle & Paul Grune Mobile Pet Grooming
University of Florida
Mr. October DJ
Willow's Runway
David's BBQ
Wahoo Seafood
Bradford Portrait Studio
ExacTech
ABA Associates
NPIS
Magnolia Iron Works
Charity Golf International
Jordan Spieth Foundation
Haile Plantation Golf & Country Club
Pepsi Co
RadWear Design, Inc.
Renaissance Printing
Five Star Golf
Burkhardt Sales & Service
Learn More »
---
Arc Gala IV: Bowden & Bowties Garners Great Publicity
As we bask in the afterglow of another successful event, 'Arc Gala IV: Bowden & Bowties,' The Arc of Alachua County's unprecedented run of great publicity continues. WCJB TV20 ran a fabulous story on the Gala on Saturday night's 11 p.m. broadcast. Coach Bowden and Mark A.Swain are interviewed on camera. You can scope out the story on WCJB.com by clicking on this link: http://www.wcjb.com/content/news/Bowden-and-bowties-468237253.html.
TV20 reporter Landon Harris' package was the second or third story on the 11 p.m. broadcast of Saturday, January 6, 2018, and really served our organization well in terms of highlighting our event, our mission, our leadership and our clients.
Thanks again to everyone who made the event possible. Events like the Gala require extraordinary teamwork and committed partnerships. The Arc is lucky to benefit from both. A very special thanks to Coach Bowden, who was simply a joy and pleasure to work with and to be around. He is a real treasure; a kind and gracious soul. And, of course, thanks to Dos Mamas Catering, Robert Fetterman, Alora Haynes and the great staff at SFC's Fine Arts Hall and Fine Arts Department, my good friend Terry Vaughan, who assisted me in getting the word out about the event and securing my contacts with 'Nole Nation, and to our fabulous orchestra of Aaron Colverson, Tony Canty, Dr. Thomas Royal, Dave Hutchings and Rob Rothschild. Thanks to Kumari Sherreitt for taking event photos (I will need a couple of weeks to process them and get them out to guests). And thanks to my lovely wife Jackie who assisted with the preparations for the event, and put up with my pre-event insanity.
And I want to personally thank our event sponsors, Florida Food Service, Tom & Joan Rothrock, The Chini Family & CDCI, ABA Associates, and Willis Towers Watson. As always, I am humbled by your support and generosity.
Way to go, Arc of Alachua County!
---
The Arc of Alachua County's LiveScan Fingerprinting, Screening & Photo Capture Service is Open For Business!
The Arc of Alachua County offers LiveScan digital fingerprinting services, screening, and photo capture services each workweek, Monday – Thursday, 9 a.m. – 3 p.m. If you need fingerprinting done fast, local, and at a reasonable cost, please call The Arc at 352-334-4060 ext. 100 to schedule an appointment.
All requirements met for
Agency for Healthcare Information (AHCA)
The Department of Children & Families (DCF)
The Clearing House for AHCA
Volunteer & Employee Background Service (VECHS)
Florida Department of Law Enforcement (FDLE)
Local School System
and more...
For more information about The Arc's LiveScan service, click on the LEARN MORE button below.
Learn More »