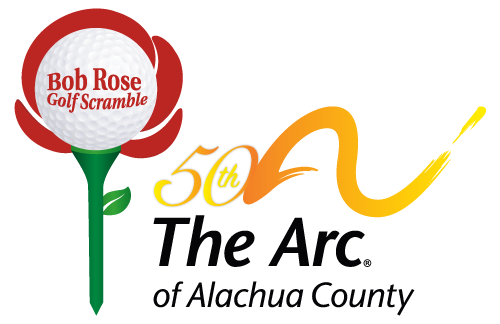 THANKS!
Thanks! The Arc of Alachua County thanks all of its sponsors, vendors, volunteers and players who helped make the 2016 Bob Rose Golf Scramble the biggest fundraiser in Arc history!
Although we had to dodge a few showers on Friday, April 22nd, all 100 golfers completed their rounds and enjoyed an afternoon of relaxed (if not always successful) golfing in support of The Arc of Alachua County and its mission. The Arc will net roughly $45,000 from the 2016 scramble with the help of its 40 sponsors and vendors.
We once again thank Haile Plantation Golf & Country Club for hosting the event. Kudos go out to Napolatano's Restaurant, David's BBQ and Loosey's for taking care of all our hunger needs, and all of the sponsors below who supported with this great event.
We would be remiss if we did not congratulate the winning team members who carded a 54 and represented Florida Farm Bureau: Stephen Tanner, Sean McNeill, Chris Bell & Pat Jenkins! Coming in The Arc of Alachua County's 50th year of service to folks with intellectual and developmental disabilities, this year's scramble success is emblematic of The Arc's continued growth, vitality and longevity.
We urge everyone to save the date for 2017 Bob Rose Golf Scramble which will take place on Friday, April 21, 2017 at 1 p.m. at Haile Plantation Golf & Country Club.
V & I Maintenance

Signe C. Erickson
---
Breaking Ground Yet Again
Arc of Alachua County representatives were in full force on Wednesday, January 13th for the groundbreaking on The Arc's 16th group home. This home will house 6 developmentally and intellectually disabled clients with Prader-Willi Syndrome (PWS).

Alachua County Commission Lee Pinkoson provided remarks, as did Arc Executive Director Steve Drago and Arc Board President Tom Rothrock.
Much like our recently completed 15th group home, The Glen Springs Group Home at The Arc of Alachua County, the Century Oak Home will be funded primarily through a $367,000 grant provided to The Arc by Florida Housing Finance Corporation. It is expected that the Century Oak Home will be completed in 6-8 months and open in the fall of 2016.
---
The Arc Gala II

Drew Copeland & Ken Block of Sister Hazel rocked the house at Arc Gala II on Saturday evening, January 9th. Offering their unique blend of acoustic music and 'behind-the-scenes' anecdotes of the music industry, Drew & Ken blew away the guests in attendance at Santa Fe College's Fine Arts Hall.
Following the concert, Drew & Ken joined 200 'Friends of Arc' at a SOLD OUT VIP Reception featuring photos, food and champagne.
Drew & Ken concluded the evening's festivities by leading the crowd in the singing of 'Happy Birthday' to The Arc to kick off The Arc of Alachua County's 50th year of service to folks with developmental and intellectual disabilities.